Cryogenic Dry Disconnect Hose Couplings
Typical applications
Bunkering
Tank storage facilities
Refuelling applications
Air Separation Units (ASU)
Railcars and trucks
ISO Tanks
Specifications
Sizes: 2", 3", 4" and 6"
Hose Units
Material: Stainless Steel
Seal: PTFE
Available with ANSI150 Flange or NPT female.
Other connections also available.
Dimensions
L
KG
2″
200mm
6.5
3″
257mm
16.0
4″
273mm
23.4
6″
Details on application
---
Design
Designed to ISO 18683.
Fully interchangeable to this standard.
Protection Caps
Material: Aluminium.
Available in all sizes.
| | Low | Med | High |
| --- | --- | --- | --- |
| Flexibility | | | |
| Cycle Life | | | |
| Pressure Rating | | | |
| Chemical Resistance | | | |
| Wall Thickness | | | |
---
Specifications
Australian & New Zealand Exclusive Distributor – Chemical, Petrochemical and General Industrial Media
Connection Sizes
½, ¾" and 1" in BSP NPT and flanged end connection.
Typical Applications
Road and refuelling of tankers, railcar, marine transfer vessels, intermediate bulk containers and processing plants.
Typical Media
Petroleum: Gasoline, Diesel, oil.
Chemical: Butadiene, Ammonia, Ethylene Oxide, Propylene
Oxide, Acrylonitrile,Toluene, Xylene, Vinyl Chloride, Phenol.
Liquefied gases
Typical Industries
Petrochemical and pharmaceutical.
Seals
Standards seals are available in FPM (Viton®), EPDM, Chemraz®, Kalrez®, NBR (Nitrile), Isolast®. For other seal materials contact the KLAW team.
Selectivity
Risk of contamination caused by incorrect hose to tanker connection is removed with the QS Selectivity feature. Specified at time of order.
Compatibility
Industry standard connectivity: compatible with all industry standard products such as TODO, Avery Hardoll
Mann-Tek.
QS Dry Disconnect coupling safety locking pin
The QS safety locking pin provides additional safety over other Dry Disconnect Coupling options. The QS Dry Disconnect safety lock pin prevents accidental disconnection.
The QS locking pin is fitted as standard on the following sizes: 1 ½" DN40; 2" DN50; 3" DN80; 4" DN100 and is also available as an option for size DN150; 6″.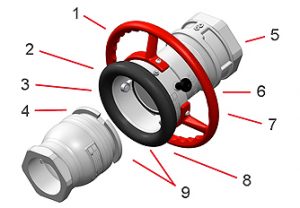 1.

Ergonomic single action operation for both the Square and Round handle QS options is designed for the rigours of repeated time pressure industrial applications and the challenges of offshore environments.
2.

Automatic Turn and Lock mechanism ensures the connection is secure and safe.
3.

Bump ring to guide and protect.
4.

Selectivity system protects against cross-contamination and is fully compatible with existing systems.
5.
Built-in swivel within the QS Dry Disconnect coupling removes hose twist and tension on the hose. This reduces fatigue on the hose or loading arm and means the connection process is much easier for the operator.
6.
Designed and manufactured to industry standards.
7.
QS Locking Pin is fitted as standard for sizes 2", 3" and 4". This safety feature is an additional safety benefit in demanding and fast operating conditions.
8.
Completely interchangeable with other manufacturers and existing systems.
9.
Automatic valve opening and closure delivers non-spill efficiency; reducing the risk of accidents and avoiding operating clean-up costs.
Industry standard and compatible with other systems
The KLAW Dry Disconnect Coupling Range is completely interchangeable with other manufacturers.
The KLAW Dry Disconnect Coupling Range is fully compliant to NATO/STANAG 3756.
Multiple seal options
Multiple seal options are available to suit all types of liquids and gases.
Typical industry applications
Marine
Industrial
Petrochemical
Chemical
Pharmaceutical
[Source: www.klawproducts.com]
Download Specifications Sheet