Quality products across the board are important as they contribute to long-term revenue, profitability and in the case of our transmission hoses, expansion joints and fittings, the safety of others. With that being said, quality is at the core of what we provide for our customers and we pride ourselves on being industry leaders when it comes to designing and engineering our products.
Here are 4 ways we ensure our engineering components are of the highest quality:
1. Quality assured stamp of approval
Pacific Hoseflex holds the quality-assured stamp of approval across manufacturing (ISO 9001), workplace health and safety (ISo 45001), and environmental (ISO 14001) work practices. The capacity to meet the requirements of major projects, including engineering design and specification, complements our reputation as a market leader.
Pacific Hoseflex's supply is strengthened via agreements with selected OEMs and the distribution of their products. Committed and dedicated to providing superior quality which incorporates continuous improvement to procedures and manufacturing practices to achieve our certified quality management system with includes:
ISO 9001 Quality management System
 ISO 14001 Environmental management systems
 ISO 45001 Occupational health and safety management systems
AS/NZS 3992:2015: ASME Section IX Welding and brazing qualifications
AS 4041-2006: Pressure piping, ASME B31.3 Process piping code
AS 4631—2005: Limited ­flexibility connectors for gas (AGA approval)
WMTS 520:2016: Watermark Approved
FMV SS106: Department of Transportation (DOT) – Brake lines approved
 Recognized Supplier of Department of Defence
Sabic Approved
National Iranian Oil Company (NIOC) Approved: 1586
2. 100% meticulous testing
We ensure our clients receive the highest quality when they purchase any of our products. Each of our products are 100% tested and meticulously inspected by a dedicated quality control position and overlooked by our National Quality Assurance Manager, a position newly created. This role ensures Hoseflex quality is consistent across all branches nationally and that there is a continued improvement in practices and the quality of the products produced. With over 24 years in hose and engineering experience, Craig Williams has been appointed the role.
His role and responsibilities will cover the following:
Complete overseas supplier evaluation
Auditing in house procedures
Management of ISO 9001
International standards management
AGA certification
Watermark certification
Welding assurance coordinator of AS 4041 – ASME IX – B31.3
Test and investigations
Microscopic examination
Material composition examination
Development of performance testing criteria
Failure identification and resolution
Generation of Material Data Records (MDRs)
Control of Inspection test plan ITP
Competition of Non-conformances
Facilitate training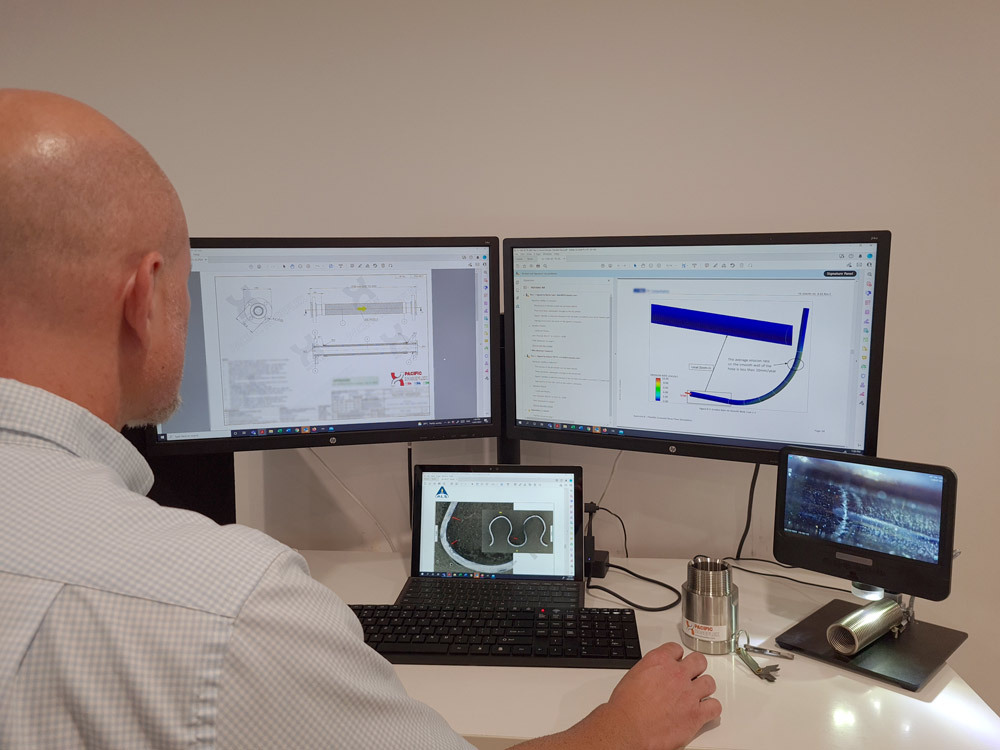 3. Continued learning
We continuously analyse and improve our practices and processes for the manufacture, testing and cleaning of assemblies in an environmentally responsible manner. Quality training and certifications enable our staff to develop strong skills to achieve the best results for our products and customers.
At Hoseflex, we continue to invest in our staff so they are up to date with procedures, legal and regulatory compliance and skills to ensure our products are the very best.
4. Our wealth of knowledge and experience
Knowledge is key when it comes to assuring quality and that is something we have in abundance. Pacific Hoseflex can assist you with any technical information required as well as offering a company representation service for onsite support.
Quality assurance is incredibly important to ensuring our high standards and product quality, that is why we are always investing in making sure our products are of the highest quality.  We are an industry leader in manufacturing and assembling fluid transmission hoses, expansion joints and fittings.