Did you know, in the last 20 years Australia has been shaken by more than twenty major earthquakes and tremors that have measured more than 4.5 magnitude on the Richter scale? 
Earthquakes have caused catastrophic damage in countries around the world, and even in Australia, where earthquakes aren't as common, they still pose a serious risk to your business's infrastructure.  
One of the most devastating earthquakes to affect Australia occurred in Newcastle in 1989, when the city was rocked by a 5.6 magnitude quake. The earthquake claimed 13 lives and 50,000 buildings were damaged, with an estimated damage bill of $4 billion. Since then, Queensland, Victoria and Western Australia have all fallen victim to earthquakes measuring above 4.5 magnitude on the Richter scale.
In 2011, our NZ neighbours were hit with an unexpected earthquake. The Christchurch earthquake was 6.3 magnitude and caused approximately $40 billion worth of damage, with 180 casualties.
 Smaller tremors can be just as destructive and can break and destroy your pipelines in seconds.
However, large earthquakes aren't the only concern. Smaller tremors can be just as destructive and can break and destroy your pipelines in seconds. Choosing to ignore the risks associated with seismic activity could result in thousands of dollars of damaged equipment and ongoing problems with you pipelines. 
How do earthquakes and tremors affect pipelines? 
Unfortunately, in Australia, most businesses aren't prepared for earthquakes and tremors. Many standard pipe and gas works won't withstand the unexpected random movements caused by seismic activity. The pipes pulling in multiple directions puts excessive pressure on pipes and joints, and because standard piping can only move on a few planes, the pipes can break off at the joints and leak. This is particularly dangerous if you're working with gas. 
How to prepare your pipes for earthquakes and tremors
If your piping infrastructure isn't prepared for an earthquake or seismic movement, you're putting the lives of your employees at risk and the repair bill could cost you hundreds of thousands, if not millions, of dollars. 
There are certain steps you can take to minimise the potential damage caused by earthquakes and tremors. 
It's important to secure your construction from the ground up, and ensure you install the safest, most efficient piping systems throughout your site. It's vital to get it right the first time, as in the event of a major earthquake or tremor, there's no second chance. 
Seismic Joints and Expansion Loops
To give you peace of mind during a seismic event, the team at Pacific Hoseflex have designed a system that can minimise the risk of piping damage during earthquakes or seismic movements, known as Seismic Joints and Expansion Loops.
Our VITALFLEX® Seismic Joints and Expansion Loops have been installed in major hospitals and high-rises throughout Australia and New Zealand and have proven to be more cost effective, while maintaining the highest standard possible. 
Benefits of Seismic Joints and Expansion Loops: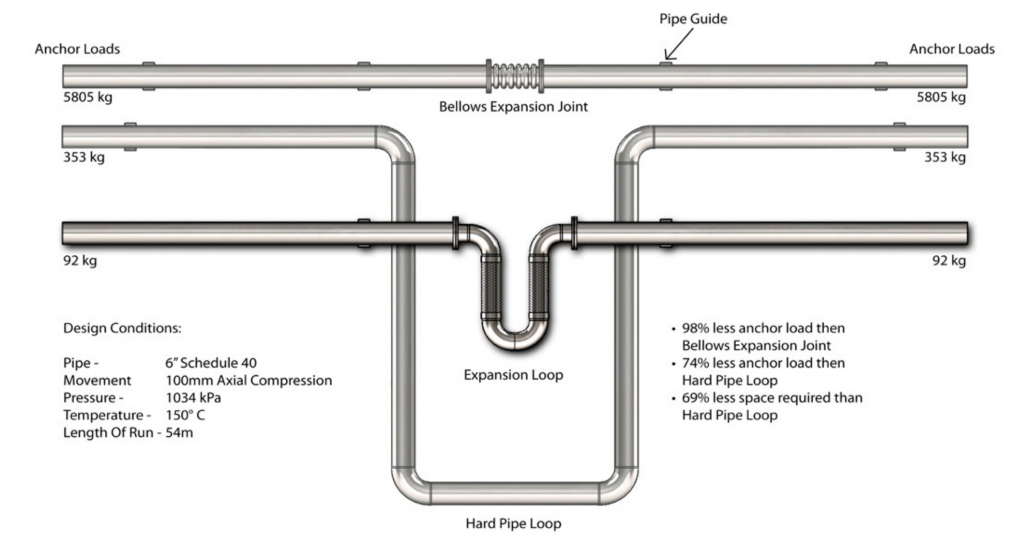 These joints allow boilers, chillers, fan coil units and other systems to move independently of the building.

They allow more movement if an earthquake or tremor occurs and the orientation can be changed relative to the piping, to minimise excessive movement that could cause pipes to break or leak. 

They are an inexpensive alternative to dual-tied bellow expansion joints, including ball joints where thrust loads and anchor points are required. 

They are available in a variety of sizes from 1-14 inches.

Operating temperature of up to 700 degrees – built to withstand thermal expansion

ISO 10380 compliant

AGA certified to AS 4631:2005 – as they are installed in gas lines as they cross the buildings seismic joints or connection to gas fired equipment, and protect against fire and the havoc that results if gas lines are unexpectedly broken.

AS/NZS 1170 – Structural design

NZS 4219 – 2009 – Seismic performance of engineering systems in buildings

FEMA E-74 – Reducing the Risks of Non-structural Earthquake Damage

Can be cleaned for oxygen use and bagged/capped and certified for service.

Available with fittings including flanges, threaded, copper ends and butt welded ends.

Watermark approved (by request) – once installed in buildings they are recognised to compensate for thermal expansion and are designed to withstand seismic activity relating to fire systems, plumbing, sprinkler systems and water mains.
At Pacific Hoseflex our focus is to deliver superior quality products accompanied by excellent service. Our products are supported with extensive research and development and our technician's knowledge is second to none. 
If you have any questions about our Seismic Joints and Expansion Loops, contact our QLD office on 07 5593 4292, or email salesqld@hoseflex.com.au, or if you're in WA call us on 08 9468 2840 or email saleswa@hoseflex.com.au