PTFE hoses are a popular choice for various industrial applications, including, pharmaceutical, biotech, food and beverage, chemical, petrochemical, general purpose industrial, automotive OE and autosport. 
The pharmaceutical and biotechnology industries require specialised solutions for fluid transfer products. Since the demand for vaccines and disease prevention drugs has increased, so has the need for advanced material flow equipment. 
Due to the harsh chemicals and extensive movement, such as lateral offset, constant flexing and vibration, these industries need to have access to hoses with the latest technological advancements.
Slickflex hoses
The Slickflex hose is the highest-regarded pharmaceutical-grade hose on the market. 
The innovative Slickflex PTFE hose has no stick properties and is purpose-built for the pharmaceutical and biotech industries. It's durable, chemical resistant, flexible and stands up to extremely high temperatures. 
Slickflex hose design features include: 
Outstanding chemical resistance. 

The ability to withstand temperatures up to 260 degrees Celsius.

Smooth inner lining for increased flow.

Convoluted outer profile for high flexibility.  

Multiple outer cover options (silicone, standard stainless steel braid and EPDM rubber). 

Crimped or encapsulated sealing ends. 

Two PTFE liner options, virgin white or antistatic black conductive.

Zero contamination crevasse. 

Clean-in-place (CIP) capability. 

Sterilise in place (SIP) capability. 

FDA approved.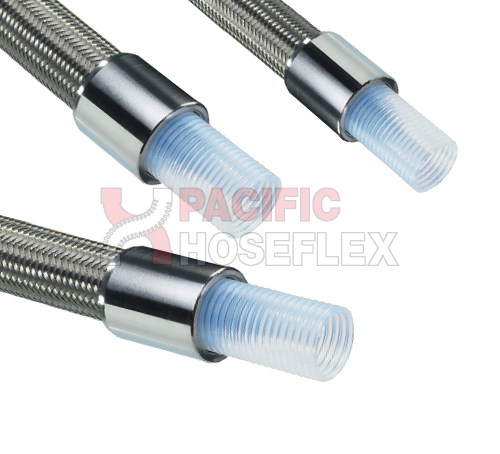 Specifications: 
Construction: Smoothbore inner with Convoluted on the outer
Profile: High Flexibility / Medium Pressure
Tube Available: PTFE Virgin / Anti-static Inner Tube / PFA
Braid Available: 316 Stainless Steel
Size Available: 1/4'' – 2''
Temperature: -70°C to 260°C
Vacuum Resistance: Full Vacuum up to 130°C
Sintered/Permeation: Slow Sintered (medium level of permeation)
The Slickflex Hoseflex Smoothbore Convoluted Hose is suitable for specific applications within the pharmaceutical industry. The PTFE liner tube is smoothbore on the inside but convoluted on the outside, combining easy assembly and high flow rates of a smoothbore hose with flexibility and kink resistance.
This hose complies with FDA, EU Food, USP Class V1, Anti-static (AS), EN:16643 and Material Certification. PTFE according to ASTM D4895, Type 1, Grade 4, Class B.
PTFE hoses at Pacific Hoseflex
As well as Slickflex hoses, Pacific Hoseflex offers a range of other versatile, durable and reliable PTFE hoses. They provide a range of advantages, including, chemical resistance, flexibility and the ability to perform at high temperatures.
PTFE expansion joints
We provide PTFE expansion joints to the pharmaceutical industry. The bellows are purposefully designed to compensate for pipe expansion, vibration and misalignment.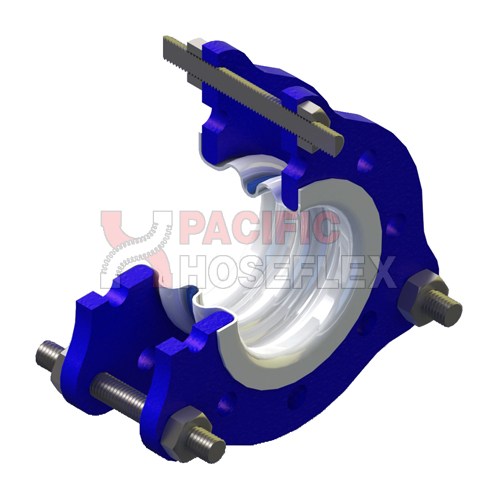 These expansion joints are considered the preferred option in high-risk applications due to their durability and proven long service life. The expansion joint's liner is moulded over the metallic sealing flange face, eliminating troublesome separate gaskets. This also eliminates the chances of bacteria. 
If you'd like more information about Slickflex hoses or our other PTFE hoses or fittings, contact the Hoseflex team online or call (07) 5593 4292 to find the right solution for your business.