In recent years, there has been an ever-growing focus on Positive Material Identification (PMI). PMI is used on a wide range of components and plays a vital role in both quality control and safety compliance. 
What is Positive Material Identification (PMI)? 
PMI is the non-destructive process of verifying the chemical composition of components on-the-spot. It provides a semi-quantitative chemical analysis and is used in many industries including oil and gas, chemical, pharmaceutical, fabrication, aerospace and more.  
In addition to certificates of composition, PMI allows us to check the composition of the component on location, at our premises. 
How does PMI work? 
PMI can be carried out using a variety of analysers, both mobile and handheld. The analysers measure the exact composition and grade of the materials of your component and ensures the grade is as stated. 
Why is PMI important? 
Incorrectly assigned stock, failed welds or inadequate grade of materials can cause catastrophic events in the fluid transfer industry, costing manufactures thousands, if not millions of dollars. PMI eliminates any potential incidents that could be caused by the incorrect composition of components by detecting these faults early. 
PMI allows companies to ensure every component meets specific specifications and works to prevent incidents caused by parts with poor integrity.
PMI:
• ensures products have been manufactured with the correct material
• ensures material has the correct standard and industry specification
• ensures welded components have the correct material
• can identify incorrect materials
• can find mixed-up alloys.
The Pacific Hoseflex PMI process
The process of identifying inadequate material grades is a key focus point of Pacific Hoseflex and our team go above and beyond to ensure all products that leave our factory are of a high standard. 
An Inspection Release Certificate (IRC) from the mills allows for early detection of non-compliant materials. Customised IRCs have been developed for all our approved suppliers to ensure the product conforms both in quality and safety standards. 
You can be sure that products don't make it to our factory unless they have been signed off for release by qualified personal at Pacific Hoseflex and the mill/supplier. The process also involves checking the material certification prior to dispatch. 
Once the product has arrived at our factory, we test it with a Portable XRF analyser and the results are compared against the mill certificates to ensure they are within tolerance.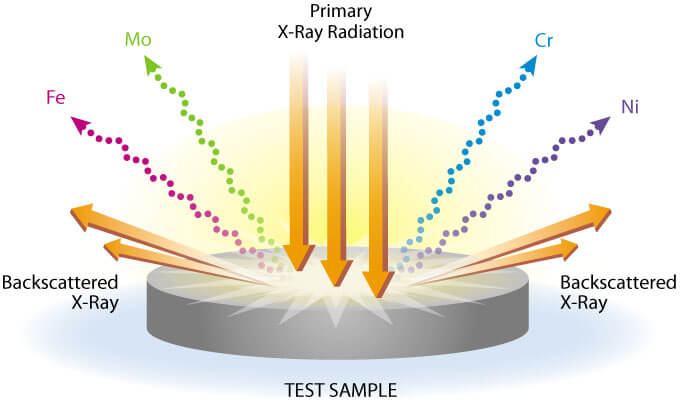 XRF stands for X-ray fluorescence. It is a powerful, non-destructive technique for measuring elemental composition from Magnesium (Mg) to Uranium (U), from parts per million to 100%. 
Handheld XRF analysers are portable and enable us to get lab-quality results on-the-spot to determine the next course of action. 
Once the parts have been analysed, they are either placed into stock against a QR code, or moved into manufacturing. 
We can use the XRF analyser throughout the manufacturing process to ensure the weld material composition is correct, mainly for corrosion resistant purposes. 
If you'd like more information regarding our PMI process, please contact our QLD office on 07 5593 4292, or email salesqld@hoseflex.com.au, or if you're in WA call us on 08 9468 2840 or email saleswa@hoseflex.com.au